BACKED BY ADVANCED TECHNOLOGY
Incident Response
"If you can't see it, you can't defend against it.™"
Business resumption and incident response: backed by advanced technology and experts in cybersecurity. Employ quick and effective response to a breach to limit the damage.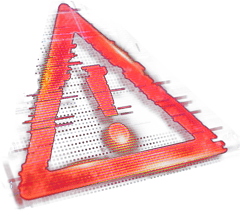 Cyber Emergency?
Get Immediate Assistance
(800) 897-CYBER (2923)
Our response team is available 24/7/365 to keep your business running.
General Inquiries?
Contact Us
Cybersafe's key focus is to eradicate the hacker and get your business back up and running as quickly as possible.
Our team of certified forensic and incident response experts has the tools and capabilities to perform remote forensics across thousands of systems.
Building upon a proven track record in the defense, public, and financial sectors, Cybersafe's experts have created a powerhouse program in incident management, forensic analysis, application, and enterprise network security assessments.
Our primary investigative tools in incident response, forensics, and information security are Cybersafe's proprietary advanced malware detection and incident response platform.
Need assistance? Call us at (800) 897-CYBER (2923).
The 6 Steps of Cybersafe's Incident Response Handling Process
As part of our fundamental approach to digital forensics and incident response, our team incorporates elements from prevailing security frameworks such as NIST SP 800-61 and FIPS 200 to ensure all incident response activities are fully compliant.
1. Preparation
We emphasize maximum system availability by concentrating on preparation and prevention. It's important to ensure all endpoints, networks, and applications are secure while leveraging our expertise to develop incident response and resolution policies and procedures. Doing so provides our incident handlers with a precise roadmap that covers the lifecycle of an incident, from identification to recovery.
2. Identification
The proper identification of systems compromised is a critical step in the incident response lifecycle. Our highly-trained staff utilizes proprietary advanced malware detection tools and multiple threat intelligence feeds, which enhance our first level of response. Cybersafe's endpoint and network monitoring is the foundation of our detection and identification methodology.
3. Containment
The key to containment is timeliness and effectiveness. Our incident response team relies on isolation and containment efforts. During this phase, our team performs network and endpoint analysis to determine how the intruders breached the network, if there was lateral movement throughout the network, and if malware was used as the initial attack vector. After this analysis, incident handlers isolate impacted endpoints and perform more granular analysis.
4. Eradication
Eradication requires the removal of all malicious code or the mitigation of an IT security incident. Our incident response team works within the constraints of the operational environment to provide a properly vetted solution. We provide short-term countermeasures that may include blocking malicious IP addresses or domains, reimaging infected systems, and changing of passwords across the entire organization.
5. Recovery
Recovery is more than the restoration of full business operations. It also includes processes to ensure that the incident will not recur and that a permanent and appropriate solution has been applied to address the vulnerability. Long-term solutions should be implemented to prevent and detect similar incidents and to improve an organization's overall security posture.
6. Lessons Learned
Follow-up is necessary to ensure that the incident has been mitigated, the attacker has been removed, and proper countermeasures have been put in place. Implementing a continuous monitoring solution that incorporates ongoing asset inventory, vulnerability assessments, network and host-based intrusion detection, behavioral monitoring, and log management will ensure that the new security measures are working properly to rapidly detect and respond to future attacks.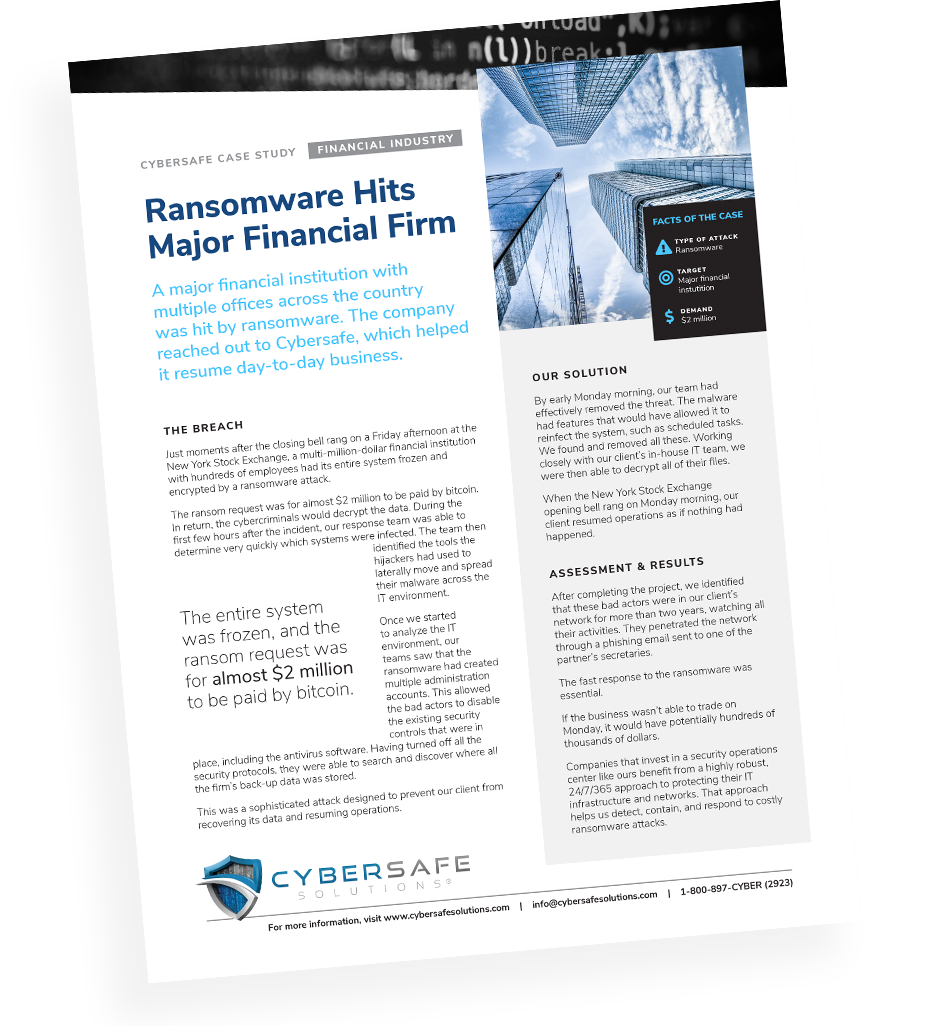 Featured Case Study
Ransomware Hits Major Financial Firm
A ransomware attack threatened the operations of a major financial institution. Swift response from Cybersafe mitigated the damage and allowed the firm to return to business as usual. Download the full case study to find out how: